CLUB HOURS

Monday thru Thursday
12 Noon to 12 Midnight

Friday and Saturday
12 Noon to 2:00 A.M.

Sunday
12 Noon to 9:00 P.M.

2:00 P.M. to 9:00 P.M
[Memorial Day - Labor Day]

No Tank-tops

BEERS ON TAP:
Guinness Stout
Smithwick's Irish Ale
Harp Lager
Sam Adams Seasonal
Yuengling
Stella Artois
Budweiser
Miller Lite
Coors Light

BOTTLED BEER:
Ask your bartender


SMOKING:
The New Jersey Smoke-Free Air Act
prohibits smoking inside our club.

Vaping is also prohibited.

Phone: [609] 586-5982
THE CLUB AT THE TRENTON AOH . . .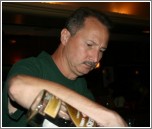 Stop by the Club when you're in the neighborhood and let the Hibo bartenders lift your spirits! You can choose from a large collection of beer, wine, and cordials and non-alcoholic beverages as well. We've got juice, soda, and snacks for the kids!

We comply fully with the New Jersey Alcoholic Beverage Commission requirements, so be sure to have your Membership Card with you at all times. Please present your card to the bartender on duty when requested. If you do not have your card in your possession, you'll be asked to sign our guest book. Guests of members [up to 5 per member] are welcome. Members - Be sure to sign your guests in! Guests of members are required to leave the premises when the member departs. Guests of members who sign in more than 5 times per year are required to join the club.

Because our Club is a family-oriented place, we ask that you watch the level of your conversation. In addition, cursing and foul language is strictly prohibited.

So c'mon in, relax, and let our bartenders provide you with prompt, courteous service and great conversation!

We're also wireless...Bring your mobile device to the club and get some work done or just surf the web while enjoying friends and spirits. Our wireless network allows you internet access while at the club.

Pictured above: Jeff pours a shot of Powers Irish Whiskey

Related Links:



I have lost/misplaced my membership/key card.